30 Days Campervan Hire from only $2299! Check out our Month of Mayhem Special!
Want to roam the country with plenty of time to chill? Check this baby out – for $2299 you have a 2 or 3-Seater Iconic Campervan for 30 Days plus heaps of extras. AND!!! You can pickup and dropoff wherever you want! Pretty sexy huh?! Call the little nymphs in sales today: 1800 24 68 69 and get cruising!
That's right – for $2299 you've got wheels for 30 Days / 29 Nights to go wherever the fuck you want! And you pay ZERO Bond baby – we just need a security imprint of your credit card! Sweet! Here's the deal:
---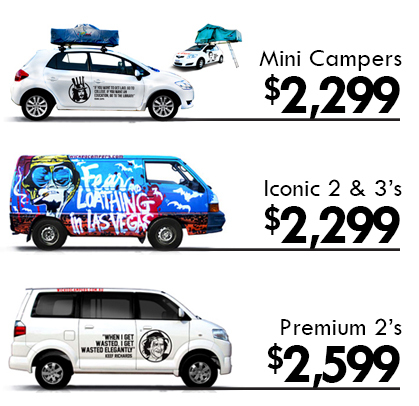 Month of Mayhem Deal Includes:
30 Days/ 29 Nights in a mini-camper $2099
30 Days/ 29 Nights in a 2-seater campervan $2299
30 Days/29 Nights in a 3-seater campervan $2599
Includes Damage Cover
NO BOND! (*must present valid credit card for security imprint)
Up to 4 Additional Drivers
Foreign Licenses Permitted
Table and Chairs
Gas Cooker and kitchen things
One Way fees, booking fees and outback fees all included
Available at these Pickup and Dropoff Locations:
*Subject to availability, please enquire. Hit us up about our other locations, and we'll see what we can do for you!
Perth
Brisbane
Cairns
Adelaide
Sydney
Melbourne
*Alice Springs
*Hobart
Terms of the Deal:
Not valid for travel between 14th December and January 14th
Subject to availability
Valid for a limited time only!
Not valid for Jon Bon Jovi or Mel Gibson
No Bond – Valid credit card required for a security imprint
So call today doods and score this awesome deal on Campervan hire!!!
In Australia Ph: 1800 24 68 69
In New Zealand Ph: 0800 24 68 70
Campervan hire has never been so awesome! Go for a Month of Mayhem and destroy your liver, punish your lungs and fry your brain in an Iconic Wicked Camper!!!
We've got locations around the world, so if you're up for hiring a campervan in LA, London, Capetown, check out all our locations – we're good for it baby!